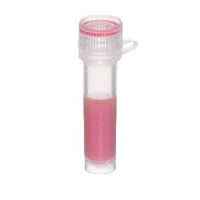 Protein L - 80nm Gold Conjugate
Gold nanoparticle core size: 80nm
Absorbance (lambda max.): 553nm

Optical density: Available at OD=3 and OD=10, select in product options
Conjugated protein: Recombinant Protein L, from P. magnus produced in E. coli
Working dilution: 1:5-1:100
Supplied in: 1XPBS (pH 7.4), 20% glycerol (v/v), 1% BSA
Applications
Suitable for use in immunoblotting, lateral flow assays, light microscopy, and electron microscopy applications. 
Advantages of Protein L Gold Conjugates
Sensitive probe for detection of human and mouse antibodies containing kappa light chains in samples such as serum, tissue culture media and ascites among others. 
Binds to a broader range of immunoglobulin classes than Protein A or Protein G. These include IgG, IgM, IgA, IgE and IgD.

Binds single-chain variable fragments (scFv) and Fab fragments that contain kappa light chains.

Does not bind goat or bovine IgG which makes it ideal for the specific detection of human and mouse antibodies produced in tissue culture medium containing Fetal Bovine Serum (FBS).
Storage/Stability
Store undiluted in storage buffer at 2-8 degree Celsius. Stable for 4 months if stored as specified.
Storage of conjugate at working dilution may result in performance loss.