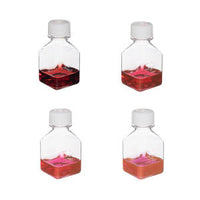 Gold Nanoparticle Size Optimization Panel (medium range, reactant free)
Sizes: 20nm, 40nm, 60nm and 80nm gold nanoparticles
Surface Composition: Citrate
Quantity: 20ml of each size at OD=1
Purity: >99% reactant free
Buffer: Supplied in 0.1mM phosphate buffered saline
Description
Four sizes of unconjugated gold nanoparticles spanning the medium size range from 20nm to 80nm combined in a convenient kit for testing of optimal size and suitability during your protocol development. Ideal for conjugation of antibodies for use in lateral flow and blotting applications.
Properties
These gold nanoparticles have a  narrow size distribution (CV of less than 12%), high protein binding capability and are more than 95% spherical. Low batch to batch variability (+/- 2nm) assures you as a customer always end up with a product within the specified size range ordered.
Storage
Store product away from direct sunlight at 4-25°C. Lower temperature prolongs the shelf life of the product.
Do Not Freeze
When stored as specified the product is stable for at least six months.